Restaurant-Trattoria PepeFor good taste in you and around you!
Sometimes in life as in the kitchen, it is necessary to shake up and awaken the senses. For good flavour on the plate, you need pepper. For good taste in you and around you, you need, Pepe!
Restaurant-Trattoria Pepe (pepper) is located in the heart of Central Belgrade, in the street Gospodar Jovanova 33, where every guest feels at home in the our relaxed surroundings.

Here you enjoy looking, listening, sniffing…and then you chose.



In every thought out detail, from the pastel-colored interior through the heartfelt atmosphere, to the kitchen, you can feel the spirit of Italy and the Italian gastronomic flavours.
At your disposal, we offer fresh soups and pottages, foccacias, meal-salads, a big selection of pastas and meat-dishes….all that together with the scents of high quality olive oil and spicy herbs. Homemade pasta is handmade daily and served fresh only.
Monthly specialIn accordance with your reccomendations, we have chosen:
Chocolate souffle with ice creamIt is impossible that you don't desire eating warm souffle which has chocolate drizzling, together with you favourite scoop of ice cream.

Souffle cakes are a perfect chocolate dessert- a juicy sponge-crust with warm chocolate inside, from which the dessert was named. We make it out of 4 ingredients: Chocolate, butter, eggs and sugar. Orange and lemon are added to the batter and we serve the dessert with vanilla ice cream and Frutti di Bosco sauce.

Menu
ReservationsBook a table online. Leads will reach in your email.
Our secretsThat traditional becomes new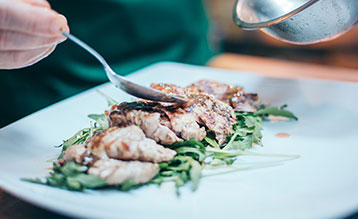 Precisely chosen spices added at the right moment. As in the old recipes with a new touch added.
Menu This month we recommend:
InstagramTrattoria Pepe On Instagram